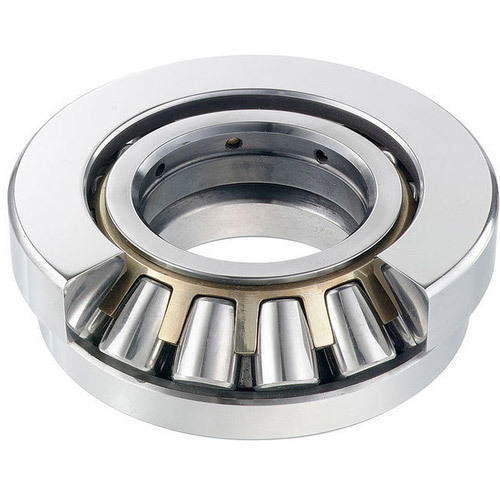 Roller Thrust Bearings | Image Resource : indiamart.com

Thrust bearing largely support axial load. Since it makes use of rotary bearing, it makes room for easy rotation between parts and also enables heavy load support. Predominantly used in industries like automobiles, marine and airlines, it needs to be made with high precision and should have high quality certification. The types of thrust bearings are roller thrust bearing, tapered roller thrust, cylindrical roller, spherical roller thrust, fluid and magnetic bearings.
Thrust roller bearing is composed of a cage and a roller bearing which is confined in the cage and disc ring supports the axial load. It can rotate at high speeds and there are practically no hassles connected to it. There are different bearing types and this difference you decide the equipment or instrument on which these bearings can be used. The shaft diameter of these bearings also differs and that also decides the temperature at which particular bearing could work.
All about Thrust Rollers Bearing
They are available with cylindrical or spherical rollers. Cylindrical rollers can take up high loads and axial loads but they would not be suitable for radial loads. Their stiff bearings ensure that they require very little axial space. The main features of the thrust rollers are that they have a good amount of service life and designed in such a way that along with roller and thrust cage, the shaft and housing washer can be seated separately.
When you want to use rollers for heavy duty The misalignment that is done at perfect angles enables rotation with low friction. This misalignment is due to the fact that internal house washer is spherical in shape.
Though this type of thrust bearing was introduced as early as 1939, it is used even today in machines but with enhanced technology and better versions. Roller thrust bearing has different manufacturers and this is the reason that the internal design of the bearing differs and so does the series.
However, the common materials that manufacturers use for steel bearing (machine cut or laser-cut) and brass (stamped or machine cut). This depends on the type of manufacturing done. For example, low volume bearings have brass or steel cages that are machine cut and high volume bearings are mainly stamped cut. All said and done the durability, ease of load capacity and the speed of the bearings would also depend on the usage and the maintenance.